Whitehaven Coal has been forced to cut its full-year guidance for production, sales, and unit costs amid ongoing geological challenges at its underground mine in Narrabri.
This morning it said total FY21 run-of-mine production across the Narrabri, Gunnedah and Maules Creek operations in NSW had been lowered to 20.6 to 21.4 megatonnes, down from 21.4 to 22.0 megatonnes.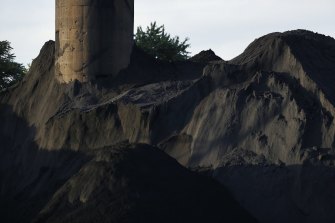 Expected managed coal sales have been lowered to 17.8 to 18.3 megatonnes, down from 18.5 to 19.0 megatonnes.
Total unit cost guidance has risen to $73 to $75 a tonne, up from $69 to $72.
Shares in the $1.9 billion company fell 10 per cent to $1.665 after 10 minutes of trade on Thursday.
Whitehaven said it had already lost two weeks of production at Narrabri due to geological challenges and associated equipment damage, and would need another two weeks to overhaul key components of the longwall.
Narrabri's production was subsequently lowered to a range of 4.5Mt to 4.9Mt from the previously announced 5.3Mt to 5.5Mt. Additionally, the next longwall move from 109 to 110 has been rescheduled from Q4 FY21 to Q1 FY22.
Rail and port infrastructure were also impacted by heavy east coast rain in March.
The firm on Thursday told investors the third quarter of FY21 had been a mixed bag from an operational perspective.
"Pleasingly we are seeing much improved and more consistent performance from our largest operation at Maules Creek, notwithstanding adverse weather in recent weeks," managing director Paul Flynn said.
"Offsetting this progress to some extent has been the geological challenges encountered at the Narrabri Underground which has impacted production.
Mr Flynn noted that coal prices continued to improve over the quarter, responding to increased economic activity as well as supply constraints.
March quarter managed run-of-mine production of 5.5Mt was up 12 per cent on the previous corresponding period. March quarter total managed coal sales was 4.8Mt, up 7 per cent.